Window profiles
Production and assembly of fillings Due to the request of investors for complex delivery of windows and doors to the reconstructed facades and at the same time the need of minimum investments while preserving quality, we established cooperation with one of the biggest producers of windows in Europe. Thanks to this cooperation we are able to offer first-class quality at acceptable price.
Windows assembled by us are inserted into steel frames of "Boletice" panels, where due to thermal deformation of the load bearing construction of sheath the profiles get strained considerably. That is why we use quality profiles by German company Rehau with top quality fittings ROTO with EPDM sealing in two colours (black and grey). Glass is made be reputable company Pilkington and their insulation capacity is standard value U = 1,0 W/m2.K.
Systems of profiles Brillant Design, Thermo design and Euro 70 are the most demanded ones. Characteristic feature of window system REHAU is the arrangement of special shape according to the principle of five-chamber system. Internal and external chambers provide for good thermal insulation and at the same time the chamber at the external side secures simple and hidden dewatering of both flap and frame. Big reinforcing chamber secures high stability of profile. The same sealing along all edges of frame and flap provides for excellent tightness of joints and also excellent tightness against rain forced by wind.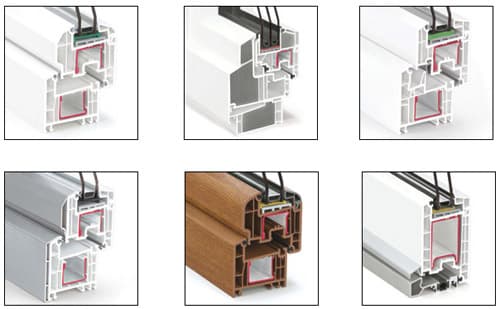 Advantages of the system:
Increased thermal insulation reaches value 1.2 W/m2K (including reinforcing) with construction thickness 70 mm Tightness of joints: value 0.1
Tightness against rain forced by wind: stress group C
The shape of frames, flap and column is the same in one welt, which enables processing without setting of machines
Milling and cleaning of profiles is possible on standard or CNC devices
Excellent static values thanks to reinforcing chamber 35 mm thick
Reinforcing profiles are consistent with system REHAU Basic-Design
Connecting edge of profile enables the assembly of any connecting profiles from REHAU systems
Modern design
Window bar enables simple glazing or devitrification of glass in various widths